Medical Malpractice Litigation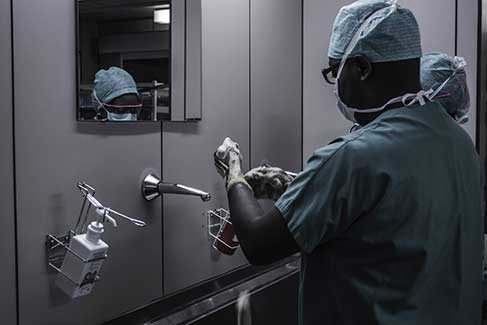 Aaronson Rappaport has earned a distinctive reputation among the elite medical malpractice defense firms serving the metropolitan area and beyond. In fact, no New York firm has more lawyers practicing medical malpractice defense. Our unsurpassed expertise and ability to pursue every opportunity to dismiss a claim, achieve an early disposition through favorable settlement or see a lawsuit through trial and verdict is key to our success. Our attorneys not only fully understand the complex nuances of medical malpractice litigation, they additionally possess the valued-added benefit of fully understanding the complex science and technology in these cases.
Working together as synchronistic teams, our attorneys are relentless in their pursuit of all information required to achieve the most favorable resolutions. Our clients witness firsthand how we provide defense work that defies conventional thinking and rewards creativity, diligence and intelligence. And as aggressive as we are in protecting our clients' rights and interests, we are equally skilled in the cost-effective management of their cases – saving valuable time and money.
A RESPECTED LEADER

We are litigation experts – more than 95 percent of our caseload is litigation-related – offering our clients the extensive benefits of our renowned expertise.
We have successfully defended thousands of medical malpractice cases.
Our trial lawyers are widely known for our unsurpassed legal, medical, scientific and technical expertise and, most importantly, for winning cases. We leverage this reputation to demonstrate to the opposition that we are fully capable and prepared to take even the most difficult cases to trial when necessary.
Our trial lawyers produce outstanding results with time and cost-efficiency in a climate where medical malpractice defense lawsuits are expensive to litigate and can result in substantial judgments.
Our familiarity with the courts in which we practice enables us to flawlessly navigate the complex procedural aspects to litigation, which leads to favorable outcomes.
We represent New York's most prestigious hospitals, including: Mount Sinai Medical Center, Mount Sinai Beth Israel, Mount Sinai St. Luke's, New York-Presbyterian/Columbia University Medical Center, New York-Presbyterian/Weill Cornell Medical Center, NYU Langone Hospitals, Hospital for Special Surgery, Northwell Health, among others.
We work with every major medical malpractice insurance program and insurance carrier in New York State.
We continually are recognized as a U.S. News – Best Lawyers® "Best Law Firm" New York City for Medical Malpractice Law – Defendants.
We continually are recognized as a U.S. News – Best Lawyers® "Best Law Firm" New York City for Personal Injury Litigation – Defendants.
We are recognized as a Go-To Law Firm for Fortune 500 Companies by ALM.
Our attorneys have achieved distinction among their peers: Martindale-Hubbell® Peer Review Ratings™, U.S. News – Best Lawyers®, New York Super Lawyers, New York Super Lawyers Rising Stars, Top 1% Trial Counsel among others.
Please email contactus@arfdlaw.com for more information about our medical malpractice litigation practice.
News